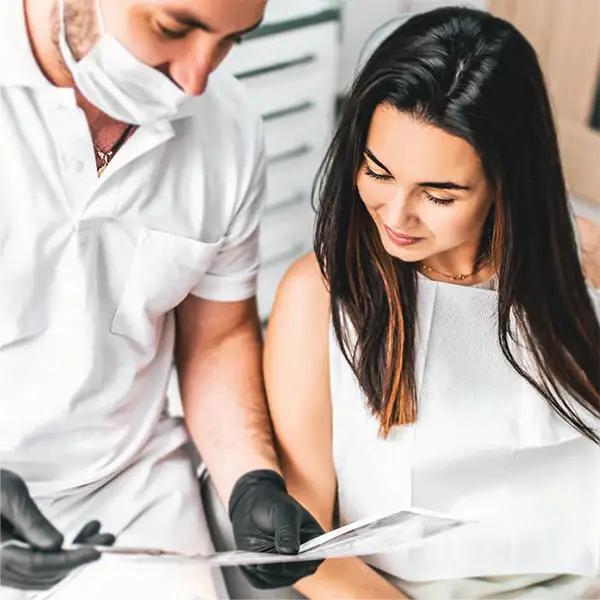 What is Medicaid and How it Can Help You Access Affordable Dental Care.
Medicaid is a vital government program designed to provide healthcare coverage to eligible individuals and families who may not have the financial means to a ord essential medical services, including dental care. At Alpine Dental Arts, we are committed to ensuring that everyone in our community has access to quality dental services, and Medicaid plays a crucial role in making this possible.
WHAT IS MEDICAID?
Medicaid is a state and federally funded program that offers comprehensive healthcare coverage to low-income individuals and families. While Medicaid primarily covers medical services, it also includes essential dental benefits, making it a valuable resource for maintaining your oral health.
HOW MEDICAID CAN HELP YOU ACCESS AFFORDABLE DENTAL CARE:

Cost-Effective Care:

Medicaid helps reduce the financial burden of dental treatments, ensuring that you can receive the care you need without worrying about excessive expenses.

Preventive Services:

Medicaid covers preventive dental services like regular check-ups, cleanings, and X-rays, helping you maintain optimal oral health and prevent more serious issues down the road.

Restorative Procedures:

In addition to preventive care, Medicaid also covers restorative treatments, such as fillings, root canals, and extractions, allowing us to address dental issues promptly and effectively.

Emergency Care:

Medicaid ensures you're covered in case of dental emergencies, providing peace of mind and timely treatment when unexpected dental problems arise.
At Alpine Dental Arts, we're proud to be a Medicaid-friendly dental o'ce. Our experienced and compassionate team is dedicated to delivering the highest standard of care to all our patients, regardless of their insurance status. We believe that everyone deserves a healthy smile, and Medicaid is an essential tool in achieving that goal.
If you have questions about Medicaid, our services, or how to schedule an appointment, please don't hesitate to contact us. We're here to support your dental health journey every step of the way.
Your oral health matters to us, and we're here to help you access the quality dental care you deserve. Together, we can achieve and maintain a bright, healthy smile that lasts a lifetime.
---
What to expect
At Alpine Dental Arts, we believe that every patient deserves top-tier dental care, regardless of their insurance or financial circumstances. We are proud to o er Medicaid services, and we are committed to ensuring that all patients receive the same level of exceptional care. Here's why our dental o'ce stands out as the best choice for your Medicaid dental needs:
EXPERIENCED STAFF:
Our team of dedicated dental professionals brings years of experience and expertise to the table. We have a deep understanding of the unique needs of Medicaid patients and are well-versed in delivering tailored care with precision and compassion. From our skilled dentists to our friendly support sta , you can trust that you are in capable hands every step of the way.
STATE-OF-THE-ART EQUIPMENT:
Alpine Dental Arts is equipped with the latest cutting-edge dental technology. We believe that staying current with advancements in the field is essential to providing the best possible care. Our state-of-the-art equipment ensures accurate diagnoses, e'cient treatments, and optimal patient comfort during procedures.
COMMITMENT TO PATIENT COMFORT:
We understand that visiting the dentist can be intimidating for some patients. That's why we go above and beyond to create a comfortable and welcoming environment. From the moment you walk through our doors, you'll be greeted with a warm smile and attentive care. Our commitment to your comfort extends to our pain management techniques and sedation options, ensuring a stress-free experience.
WHY CHOOSE ALPINE DENTAL ARTS FOR MEDICAID DENTAL CARE:
Comprehensive Services: We o er a wide range of dental services, from routine check-ups and cleanings to advanced treatments. Whether you need preventive care or more complex procedures, we have you covered. A ordability: We work closely with Medicaid to maximize your benefits and minimize out-of-pocket expenses. Our knowledgeable team will help you navigate the insurance process with ease.
Convenient Scheduling: We understand the importance of flexibility when it comes to appointments. Our o'ce offers convenient scheduling options to accommodate your busy life.
Personalized Care: Your dental needs are unique, and we tailor our treatments to address your specific concerns. Your journey to a healthy smile begins with a personalized treatment plan.
At Alpine Dental Arts, we are honored to be your partner in achieving and maintaining excellent oral health. We are committed to providing Medicaid patients with the highest standard of dental care, and we look forward to welcoming you to our family. Contact us today to schedule your appointment, and take the first step toward a healthier, happier smile. Your well-being is our priority, and we can't wait to show you the difference that compassionate, state-of-the-art dental care can make.
» CALL FOR A CONSULTATION